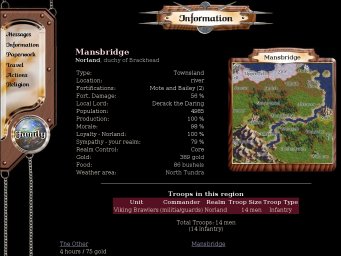 BattleMaster is a game played from your browser where grand stories unfold created by the interactions and imaginations of players. It focuses on battle, teamwork, and roleplay where the power is in your hands to create your own destiny and alter the course of history, forever. It takes place in a medieval setting where you create a character and join other players in a realm of your choosing. Your character will be of noble blood, start off as a Knight, and as your ambition demands, perhaps one day reach the ranks of Duke, General, Ruler, or more. Your character will fight alongside their realm's fellow nobles against nobles from enemy realms in order to win wars. Cities will be conquered, regions will be defended, and blood will be spilled in the name of honor, glory, culture, and power. Take part in forging alliances, destroying empires, fighting holy wars, and more in an ever changing landscape created by players, for players, where the victors are envied and enter the pages of history.
Battlemaster is a lightweight slow paced game designed to be played alongside your other activities with turns every 12 hours at 6AM and 6PM UTC . Depending on your desires and your characters' tasks, you can spend as little as 10 minutes per day on your characters, or over an hour based on what you want to do, roleplay, and achieve each day. A typical response time to letters and messages is measured in hours, not minutes, and many play Battlemaster from their smartphone while on the go.
Casually fight wars by wielding sword or bow, devise military strategy and lead fellow nobles by commanding the armies of your realm, vie for power among ambitious nobles and realms by engaging in political intrigue, spread your religion's faith and embark on a crusade for purposes only known to you: these are some of the many choices you will make. In Battlemaster, you create your own destiny, and all that stand in your path make victory that much sweeter when you overcome all that oppose you. Join Battlemaster now, every day is another chance for you to attain fame and honor!
Looking to flex your coding skills? BattleMaster is under active development by a focused team of volunteers. We invite you to join us and take an even deeper part in this ever growing universe! New features are regularly added, gameplay is balanced and tweaked, and more is done to continuously improve the game. You can talk directly to the developers at the forum.
"Your name" does not have to be your legal name if you would prefer not to give that to us, but we do ask that you give us something to call you, as a person, separate from the characters and family you will create, that makes you seem like a pleasant human and not a l33t h4xx0r, a killer robot, or a cartoon animal. In short, the kind of name a real person might have, even if it's not actually yours. Separately, we ask for a name for the noble family you will be playing as in the game.

News Ticker
Code Update July 2021
- posted on Tue Jul 27 at 17:18:41 by Timothy Collett
Major Changes
A new public Titan Hub is being launched, which contains a more comprehensive description of the role of the Titans than has previously been published in one place, as well as (once we start getting it up there) the list of public Titan Case Summaries.
Minor Changes and Bugfixes
There are a number of bugfixes and minor changes to the new message reading interface, particularly on the South Island, which had some extra issues. Highlights include fixing some ways in which the AJAX loading could fail, shrinking the time-period selector, properly implementing deletion of message filters, and much better handling of marked messages.
We've also made sure that the new travel-time indicator shows on pages updated to the new Symfony framework (including the new message reading interface), and updated the account deletion process, which was broken.
Dragon Eye: Legacy
- posted on Sun Jul 4 at 03:25:23 by Timothy Collett
Though Tom is no longer involved in BattleMaster, we are happy to announce his new game, Dragon Eye: Legacy. It is a 3D narrative adventure currently in early access beta.
Code Update June 2021
- posted on Sat Jun 26 at 15:21:12 by Timothy Collett
This is a major update, without much minor. Four important changes:
1. The requirement for Real Names has been removed.
2. The realm banner selector and uploader has been overhauled.
3. There is a new experimental message reader, which includes access to...
4. The Global Roleplay channel.

Click below to find out more!
BattleMaster Going Early Modern
- posted on Thu Apr 1 at 05:48:21 by Ethan Lee Vita
We have recently decided to expand BattleMaster's timeline a bit more to include early modernism, allowing us to incorporate more interesting features for players. As part of this plan, the first implementation has been complete - the incorporation of stock markets into BattleMaster, which all nobles may access from the Actions page. Considering the recent popularization of stockmarkets, we hope it will make BattleMaster more appealing to play to a wider audience.
New features on the agenda include:
Unit type with gunpowder, the Musketeer
Paraphernalia type with gunpowder, the Light Cannon
Resource in addition to food, gunpowder

A supply is required to maintain production of gunpowder units and paraphernalia
If a realm's supply runs out, production stops and existing units cannot be recruited or bought

Subclass, the Privateer

Able to raid ships sailing on seazones
If a Privateer has a Musketeer unit, they will have a special unit type displayed (just like Martyr for Priest/Heroes), Marines
Only Privateers can sail with Light Cannon, and use them when raiding ships
Recent Updates, Lich King Event
- posted on Mon Mar 15 at 18:55:25 by Timothy Collett
As some have already noticed, there have been several updates recently, which are largely focused on improving things behind the scenes for developers and fixing the bugs that cropped up since the server transition. However, there are a couple of items of note for players:
The News Ticker is no longer integrated with the forum's Announcements board, as the forum integration proved incompatible with some of the updates to the game's structure. For now the only visible differences from this are a slight change in presentation and the disappearance of older announcements (I've copied a couple of recent ones over), but we have hopes of using the fact that the News Ticker is now fully part of the game to make new announcements more prominent in various ways in the future.
As mentioned previously, the old Account page is now gone for good. I am still strongly encouraging feedback from anyone who preferred it, as it may, in the future, be possible to offer a slightly more customizable experience on the new Account page—possibly including alternatives in presentation for the characters.
Finally, there is now a
special RP event
ongoing on the Colonies: the Lich King has returned, and all now quake in terror before him! ...Or, well, at least quake in something. If you're not playing on the Colonies, you're missing out!