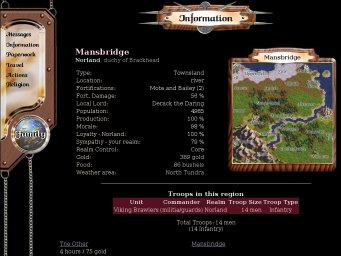 BattleMaster is a team-oriented browsergame merging strategy and roleplaying. It is set in a low-fantasy middle-ages world and players take the role of nobles and lords.
BattleMaster is a light-weight game that can be played alongside your other activities. Although you can delve deeply into it and spend more time on it, about 15 minutes per day are enough for regular play, and 5 will do if you are in a hurry.
BattleMaster is also a game under active development. New features are being added and gameplay and balance are constantly tweaked to improve the game further. You can talk directly to the developers at the forum.
Please enter the following data to join. Note that we really do ask that you give your real name: it will remain private information unless you decide to make it public, but we are firm about wanting to know who's playing in our house. Separately, we ask for a name for the noble family you will be playing as in the game.

Enter your e-mail address and your password to access your account.